Cheaper Shipping Isn't Always Better
Everyone feels the pressure to make their shipping and logistics program cheaper, better, faster. But cheaper isn't necessarily better. In fact, it's generally worse in the long run. It almost guarantees that the low-cost service provider is cutting corners at some point in the transaction.
This evening, I talked with an independent trucking service provider that MoveIt has worked with for over 20 years - a friend. We discussed many transportation-related topics, like rising fuel costs, labor shortages, and gossip about the competition - but as always, we ended up discussing the negative impact that continual downward pricing pressures have on logistics service.
As two business owners who've built successful businesses with an emphasis on quality, personal service, we agreed that the pressure to "cheapen" our services is the root cause of nearly everything that's wrong with logistics (well, maybe that's an exaggeration, but you get the point).
Many in the industry believe that - from supply chain issues to hiring problems to insurance claims - almost all logistics woes can be traced back to an attempt to outprice the competition.
Service Matters
In addition to the obvious impact of poor service on the customer experience, the negative impact of sub-par service on employee satisfaction, mental health and general mindfulness is often overlooked.
For example, if we were to choose a low-cost, under performing service provider and your item is late or damaged in transit, our MoveIt employees would be tasked with dealing with the fallout. Over time, triaging the consequences of low-cost shipping can wear them down and leave them feeling exasperated and fatigued.
Now, although there's always someone who will do it cheaper (if you take pride in your work), there isn't always someone who will do it better. I've often said "We aren't always the cheapest, but we are always the best."
At MoveIt we care about our customers more than anyone in the business.
Everything Adds Up
One small effort that makes a big impact? We always have a live person answer the phone. It may sound simple, but it's important and it works. People love Jenny, our Director of First Impressions, because she immediately makes them feel heard and gets them to the right place. We'll never send you to an impersonal or frustrating automated voicemail system.
I've sat across countless boardroom tables explaining the value of service to people who are interested in working with MoveIt. Sometimes they get it, and sometimes they don't. It's hard to show them in dollars and cents how something as simple as having Jenny answer the phone can save them money, but I'm convinced that it can.
Here's how.
Solving Problems
Let's pretend that a customer has a critical shipment with lots of eyes on it. Something changes (as is often the case), and everyone is left scrambling for answers and solutions. So, the customer calls MoveIt. Instead of getting a faceless, impersonal voicemail directory, they get Jenny.
Unfortunately, the account manager the customer wants to reach is out of the office… but Jenny knows how to reach them. She calls the account manager on their cell and explains the urgency of the problem. Then, the account manager jumps right on it and the problem is quickly solved.
Similarly, we pay our service providers a fair rate for a fair service. We don't "beat them up" on price every time they quote a job, or negotiate a contract for services. This means that the service is always better.
When we need extra attention or have a special request, for a good customer in a tight spot, the service provider will be more likely to help us find a solution. This helps the customer because when the problem is solved, they're a hero! They also have less stress which helps them perform better at their job, and gives them more time to focus on other critical parts of their role.
Beyond Freight
Quality customer service and support is key in any industry, but especially so for third party logistics providers (and especially in specialized logistics). Over 60 percent of all freight is touched by a third party, like a broker, forwarder, or NVOCC. Some see this as an added layer of cost and additional channels that hinder communication flow. Others know the true value of a good, knowledgeable 3PL.
3PL's play a crucial role in improving service and maintaining price equilibrium across all logistical channels. But, most importantly, they add value to the supply chain. Since 3PL's don't have assets like trucks, planes and ships, all we truly have is customer service and our ability to find efficiencies and get things done - the best way.
According to a recent Forbes report, poor customer service costs US Companies over $75 billion a year in lost business. I like to look at the converse, and believe that helping shippers navigate increasingly complex waters of regulation, supply side capacity problems, providing knowledge and impressive customer service can save customers at least that much.
It's Your Choice
One final thought; when you pick a restaurant for dinner, do you always pick the cheapest? Or do you select the place that welcomes you by name, takes time to explain the specials, offers recommendations, and then gives you great food at a reasonable price?
The MoveIt Companies are like your favorite restaurant. When the meal is done, the table has been cleared, and conversation and laughter fills the dining room, we're there with our friends to make sure everyone is satisfied and to make sure they'll be back.
Since 1979, we've made it a priority to listen to the customer's needs, and then provide value and meet their needs with the best options for price and service. Dessert is always on the house.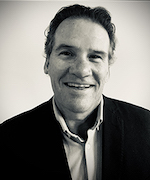 Todd Partridge is CEO of The MoveIt Companies, a technology junkie and logistics strategist. For the last 32 years, he has been the (cheer)leader for the incredible team of transportation specialists at the MoveIt Companies.