What's Wrong With Your Freight Packaging?
In today's LTL shipping climate, most carriers are running short on drivers, warehouse workers, and support staff, and experiencing delays in securing new equipment. It's more important than ever to be conscious about your freight packaging.
I received a photo yesterday and it set off alarm bells.
Take a look. What's wrong with this freight packaging?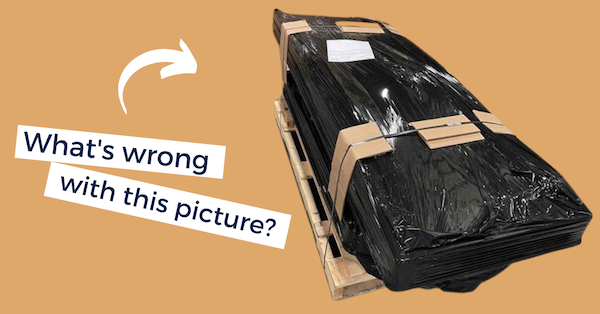 Do you have a few guesses? Here's what I see:
1) The item doesn't fit the pallet.
You never want your item to overhang on the pallet! Why? It will likely be jostled with a forklift, banged against other freight, and violently shifted several times on the pallet prior to delivery.
2) There's no protection for the freight.
Because LTL freight capacity isn't currently meeting demand, there's more stacking of freight than ever before. It's very possible that you could have a heavy item placed on top of your pallet; protect it well!
Although it's true that many LTL Carriers have a "no stack" option, we haven't seen any evidence that this is being respected – especially in late 2021. The workers on the dock are loading pallets as quickly as possible and filling trucks to the brim to avoid further delays.
If your item can't be packaged sturdily enough to sustain possible stacking, ask your logistics specialist for a "blanket-wrap, non-stack guarantee rate," or an "exclusive use truck rate." This is the only true way to guarantee your item will be respected during transit.
3) Black shrink-wrap is a no-no.
Can you tell if there's any packaging/boxing beneath the black shrink-wrap? The carrier will assume there's adequate protection underneath the shrink wrap, and will handle it accordingly. If there's damage upon delivery, your claim may be denied due to "improper packaging."
If you're sending this shipment via a blanket-wrap carrier (which doesn't require prior packaging by the consumer), the driver needs to be able to see the condition of the product. Because they can't, they'll assume any bumps/scratches were pre-existing.
Does your freight packaging meet the ever-increasing requirements for safe shipping? Always be sure that your freight is insulated with bubble or foam, crated or incased in cardboard/a box, and banded to a proper-sized pallet.
Looking for help with freight packaging? Get a free quote with MoveIt. After 42 years in business, we're well-versed in what it takes to deliver a shipment safely.
Chad graduated from Iowa State University in 1996 with a bachelor of science in Statistics and has been involved in operations management and marketing for 24 years. His current work at MoveIt is focused on customer and vendor network development. He is happily married with 3 sons who are all heavily involved in sports and music like their father.