MoveIt Donates 10 New Guitars to Broken Strings
Breda, Iowa - For Immediate Release
Last week, the MoveIt Companies donated ten brand new guitars to the non-profit initiative, Broken Strings.
"Music and the arts are an important and often overlooked and underfunded part of our school system," says MoveIt CEO Todd Partridge. "We're proud to support this wonderful organization and put musical instruments in the hands of kids who might otherwise not be able to be able to get them."
Broken Strings is a nonprofit organization dedicated to giving the gift of music to kids in the state of Iowa. It's their goal to donate one guitar to one student in each of Iowa's 367 middle schools.
Nonprofit organizer Scott Kirkhart says Broken Strings was founded in an effort keep the fine arts alive in Iowa schools after a friend and former bandmate was diagnosed with stage-four non-Hodgkin's lymphoma.
The MoveIt Companies don't just donate guitars – they ship them, too. Since 1979, MoveIt has been providing specialized logistics for shippers of high-tech equipment, medical devices, copiers, vending machines, auction purchases, and many other industries.
"Although it isn't the biggest part of our business, MoveIt has been involved in some exciting music industry shipping projects, like moving the tape machine that recorded Pink Floyd's "Dark Side of the Moon" and The Beatles "Abbey Road," Todd says. "We move a lot of recording equipment to studios like Jimi Hendrix' Electric Lady Land in New York City, and equipment for many famous artists from Ben Folds to Pete Townsend."
MoveIt provides a full complement of logistics-related services, including blanket wrap trucking, inside pick-up and delivery, white glove services, shipment preparation, audits, distribution, inventory management, economy trucking, air freight and emergency shipping.
For all media inquiries and additional information, contact Madison Karpan at madison@moveit.com.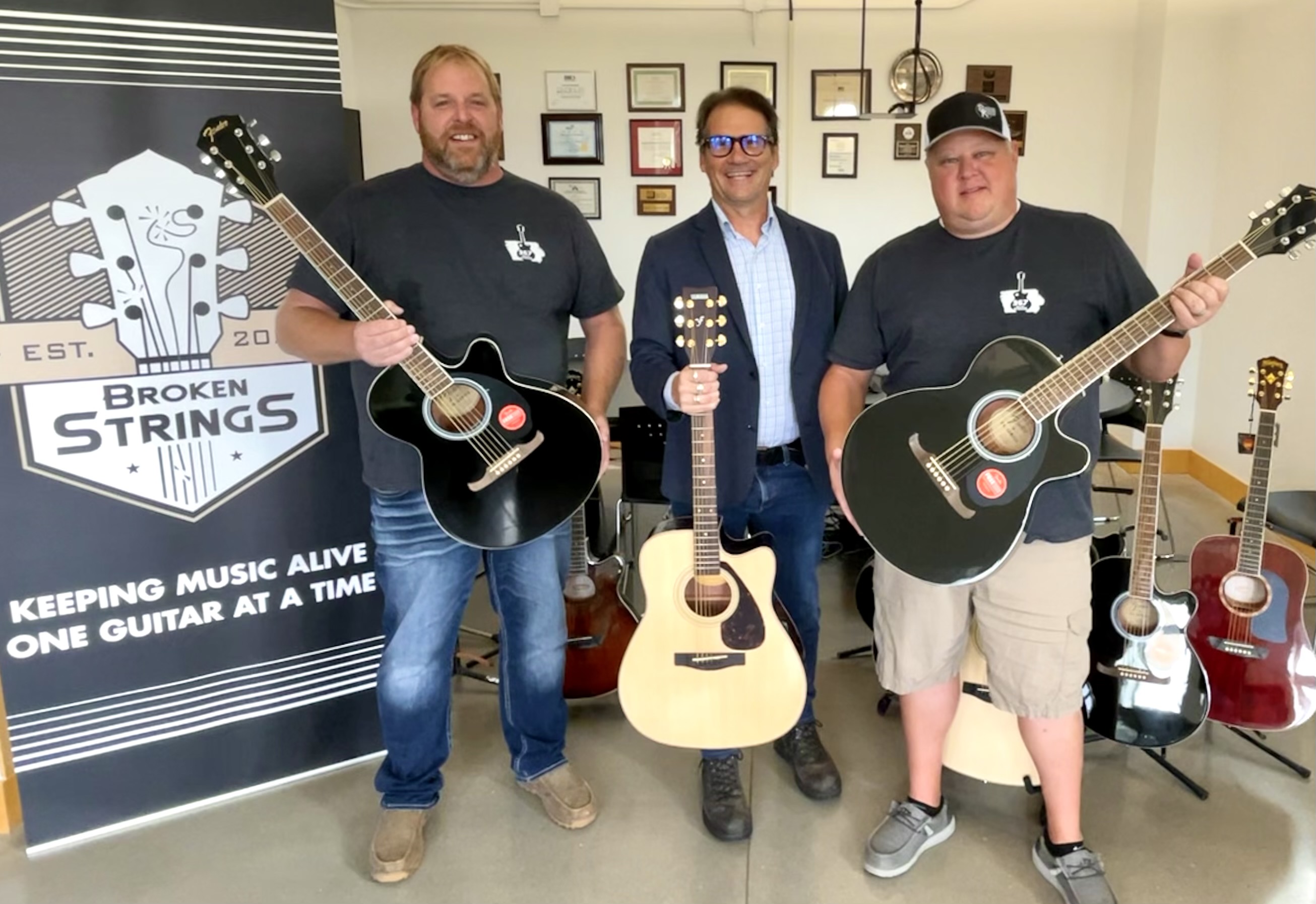 Pictured, left to right: Scott Kirkhart, CEO/Founder Broken Strings, Todd Partridge, CEO The MoveIt Companies, Jason Hacker, MoveIt International Manager and Broken Strings Board Member. You can donate to Broken Strings via Venmo @brokenstrings4ia.